---
Ironworkers Canada: The # 1 source for Edwards Ironworkers products in Canada.
---
***IN STOCK EDWARDS 55 TON 3 PHASE, 575V***
MSRP $19,495.00 – ONLY $18,995.00 CAD + Shipping
***FREE COPER NOTCHER INCLUDED***
---
Our Best Sellers!
---
---
Edwards Powerlink Tools
---
---
Ironworkers Attachments and Accessories
---
---
Punches and Dies
---
---
Edwards POWERLINK™ SYSTEM & Hydraulic Accessory Tools
---

Simply Plug In & Power Up any of our ever-increasing line of Hydraulic Tools into your EDWARDS Ironworker to expand your fabrication capabilities
We offer Ironworker models from 50 to 120 tons with the factory installed PowerLink System
Look for the PowerLink logo to find Ironworkers with the PowerLink System installed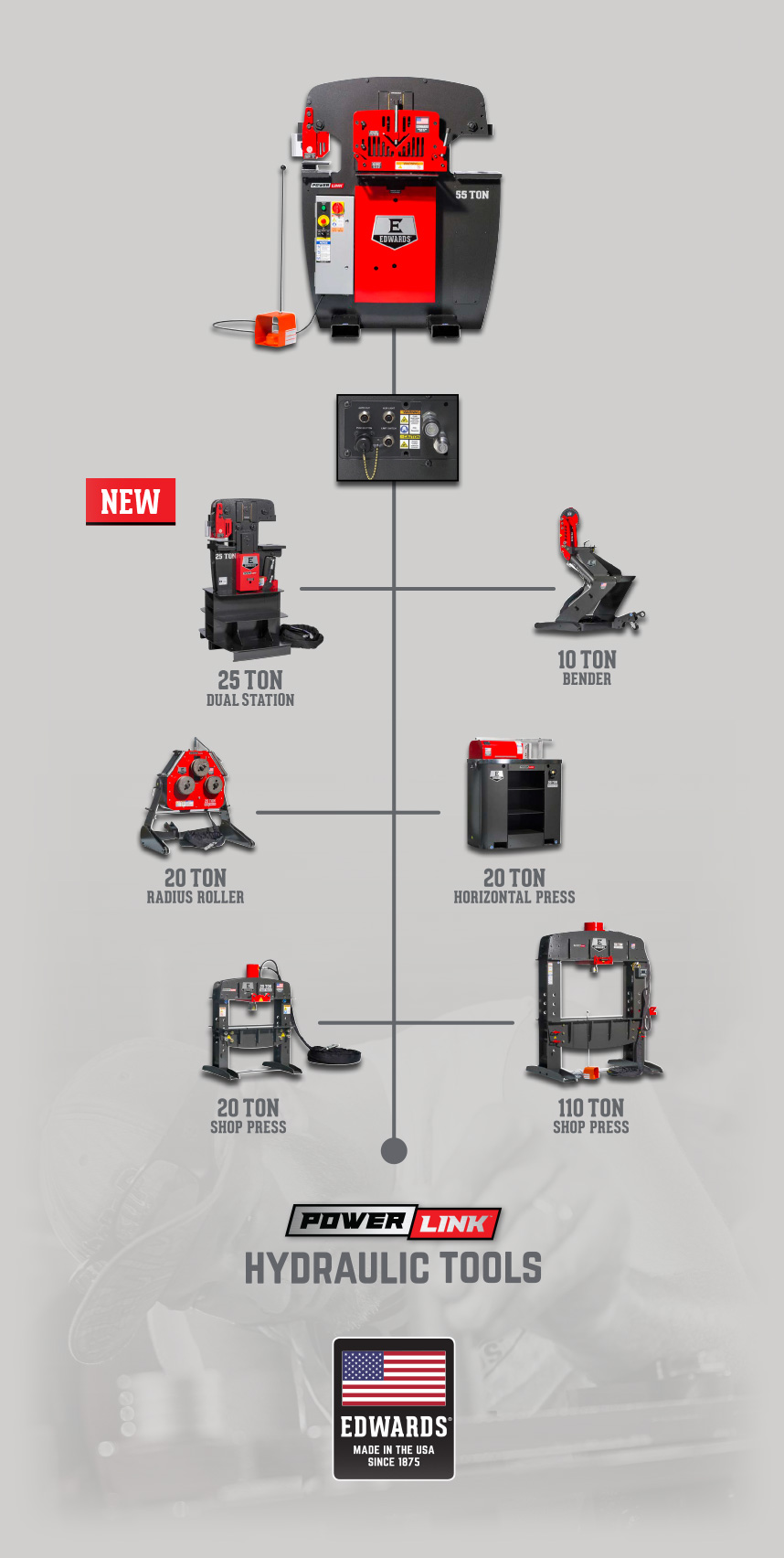 The exclusive EDWARDS POWERLINK™ SYSTEM turns your Ironworker into a power source for an ever expanding line-up of Hydraulic Accessory Tools.
Simply PLUG IN & POWER UP any Hydraulic Tool and expand your fabrication capabilities.
The factory installed POWERLINK™ SYSTEM includes quick connect couplings allowing easy transitions between Hydraulic Tools.
The EDWARDS Portable Power Unit is an additional power source with the POWERLINK™ SYSTEM.
---
EDWARDS: MADE IN THE USA SINCE 1875
---

YOUR WORK IS YOUR REPUTATION. IT'S OURS TOO.
That's why each and every day, you put it all out there for the world to judge. Never stopping and always looking forward to your next challenge. You know what it means to work hard to move the industry ahead one build at a time. For the versatility needed to stay ahead of every challenge, our Edwards Ironworker equipment and accessories are here to help.
---
Ironworkers Canada: The # 1 source for Edwards Ironworkers products in Canada.
---
Edwards Manufacturing line of Hydraulic Ironworking Equipment leads the industry in quality, reliability and versatility. The JAWS line of Edwards Ironworkers has recently been expanded with the addition of the new Edwards ELITE line. Edwards ELITE Ironworkers boast high-quality design and a host of integrated features. Both lines of Ironworkers are bolstered by an extensive line of Tooling Accessories, giving the user the ability to tailor their Ironworker to their specific needs.
The line of Edwards Ironworker machines and equipment is further complemented by a line of innovative Hydraulic Accessory Tools, powered by an Edwards Ironworker or the Edwards Porta Power—a portable hydraulic power unit. These tools expand the abilities of your shop quickly and economically. Edwards Manufacturing high quality, easy to maintain Hydraulic Iron Working Equipment leads the industry